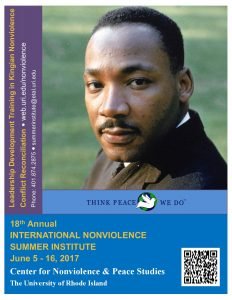 University of Rhode Island, USA: (5th to 16th June 2017)
Our Trainer and Research Officer Mr.Thupten Gyaltsen will attend 2017 International Nonviolence Summer Institute at University of Rhode Island.
The 18th Annual International Nonviolence Summer Institute 2017 will be held on the URI Kingston Campus June 5 – 16. Participants from many countries and US states will converge to learn about the philosophy and teachings of Dr. Martin Luther King, Jr.,  developing the skills necessary for promoting peace, nonviolence, civil resistance, & social change in their local communities, region, or globally.
Mr. Thupten Gyaltsen is representing our center and Tibet at this year's summer institute.