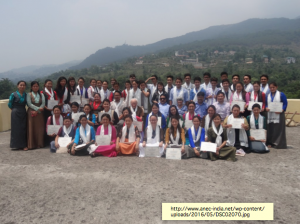 DHARAMSHALA: Education Secretary Dr Ngawang Rabgyal, Department of Education, CTA had inaugurated a five-day Pilot Training Program on Universal Nonviolence for a batch of teacher trainees from the Centre for Teacher Education, Bhuntar situated in Kullu district, Himachal Pradesh.
The Nonviolence training program is being organised by Education Council of the Department of Education, CTA in collaboration with Active Nonviolence Education Center (ANEC) at Sherab Gatsel Lobling from 18 – 22 May 2016.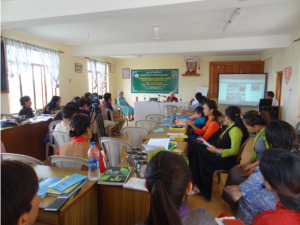 Pointing towards the common principle of Buddhist science and western nonviolent action strategies, Secretary Dr Ngawang Rabgyal said, "For many generations, Tibetans have been practicing nonviolence in the context of Buddhist morality. As followers of His Holiness the Dalai Lama, nonviolence has been the key to our thinking and action. Therefore we are well equipped to learn the western application of nonviolent action and apply both the approach in our school education system."
"History has shown many successful examples of non-violent direct action. Champions of non-violence such as Martin Luther King Jr, Mahatma Gandhi, His Holiness the Dalai Lama have advocated non-violence as a pragmatic strategy for peaceful social and political reform."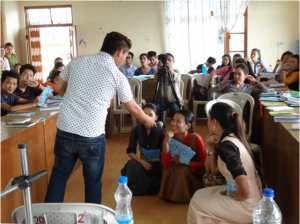 Mr Tsering Samdup, Director of Education Council, Department of Education thanked the co-founders and key trainers of the workshop, Rabbi and Ms Gendler for their unrelenting support to the Tibetan cause through the ANEC training program for the last two decades.
"The workshop experience will enhance your understanding of active nonviolence strategy, enabling you to bring the practices into your profession and daily lives," he said, urging active participation of the trainees.
Rabbi E Gendler, co-founder of ANEC spoke about practical nonviolence and its relevance to Tibetan culture. "The Tibetan exile community is uniquely prepared to take the practicalities of non violence and develop them because you have the inspiration and teachings of His Holiness the Dalai Lama."
The five-day training curriculum includes discussion on 'Active Nonviolence', 'Philosophy and Pragmatism of Nonviolence', 'Reasons for Nonviolence and Why Tibetans should follow the path of Nonviolence', 'Buddhist concept of Nonviolence' and more.
Administration Secretary Mr. Topyal Tsering, Department of Education, CTA had graced the closing ceremony and awarded certificates to the participants.
This is the first batch of four-year integrated B.Sc.B.Ed./B.A. B.Ed courses from Centre for Teacher Education at Bhuntar in Kullu district, Himachal Pradesh. Of the 47 trainees, 29 have completed B.A B.Ed. and 18 have completed B.Sc B.Ed.
The training program is funded by Danish International Development Agency (DANIDA) through CICED.