ANEC Screened FREE Documentary Film
"Leaving Fear Behind"
Location: Jimmy's Italian Kitchen, McLeod Ganj., Dharamshala.
Date: Monday 27th August, 2018
Time: 3:00-4:30pm
Active Nonviolence Education Center screened a documentary film, "Leaving Fear Behind" (Jigdrel in Tibetan). It is a 25-Minute long, an exceptional and decisive documentary film shot by Tibetan amateur Film-makers inside Tibet, Dhundup Wangchen and his Friend Golog Jigme, a monk, also known as, Jigme Gyatso. It is a compilation of 40 hours footage captured between October 2007 to March 2008 featuring the testimony of 108 Tibetan Individuals, representation of rest of the Tibetan inside Tibet regarding the resentment over violation of basic human rights, Criticizing the choice of china in hosting the 2008 Summer Olympic Games despite the acute situation inside Tibet. Praising His Holiness the 14thDalai Lama for his long endurance, how they are traumatized by the rampant repression and expressing dislike for mass migration of Han Chinese immigrants to Tibet resulting in the deprivation of Jobs, School admission for their native people.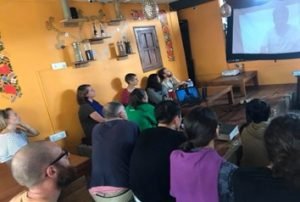 The content of the film led to the imprisonment of both the film makers, Dhundup Wangchen for 6 Years and Golog Jigme for 7 Months on March 28 from Tongde, Qinghai Province and were brutally and mercilessly tortured.
Fortunately, both of them were released after serving 6 years and 7 months in prison on 5th June, 2014 and 2008 respectively.
A total of 24 people attendant this Film Screening from different parts of the world (USA, England, Netherland, Belgium, Israel, China, India, Spain, France, Poland, Romania, Scotland, Canada, Tibet and Italy.)
Mr. Thupten Choephel, Trainer cum Research officer gave a detailed introduction about ANEC, from documenting its history to recent achievements and he also made all the participants aware about how they can contribute as an individual in internationalizing the plight of Tibet and its people.
The film was followed by an in-depth decision where ANEC's Executive Director, Ms. Tenzin Lhamo split the participants into four groups in order to mindfully engage in discussing about the repressive policy of china resulting in affecting Tibetans inside Tibet to a great extent
After an impactful discussion, Ms. Tenzin Lhamo, stressed on why it is an imperative action to address the plight of Tibet more vigilantly for the benefit of world's peace?
Where she mentioned-
Chinese's Government has been violating the Fundamental human rights inside Tibet unlike other countries.
Construction of dams and diverting the major rivers which flows from Tibet is a threat to the life lines for many mainstream countries (1.4 billion total population of the world).
Incessantly destructing the fragile ecosystems of Tibet through mining, deforestation and rapid urbanization.
Chinese's Government been imprisoning Tibetans for preserving their basic rights such as religious, culture and so on.
The film screening was concluded with a vote of thanks by ANEC staff for taking interest about Tibet and our struggle. ANEC 14th Newsletter and brochure were distributed to the audience.
(THE END)
Watch Full 🎥 :- Click Here