Name: – Mr. Ngawang Lungtok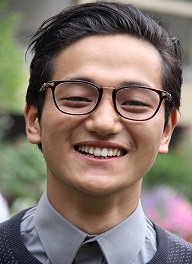 Education/ Qualification
Class Xth grade: –  Lower T.C.V 
Class XIIth grade: – T.C.V Gapalpur
Bachelor Degree: – B. A. English Literature Hans Raj College (University of Delhi)
Master Degree: – M. A. English Literature Hans Raj College (University of Delhi)
Work Experience
Worked as Travel host with (TCV) Tokyo video Channel in collaboration with Indian Tourism – Haman's San and Ono San.
Worked with German graphic design magazine editor and film critic Ms. Sabine Andrea Danek.
Taught English as a Second Language to Class XII students at TCV Suja.
Co-created First North East cell in Hans Raj College to tackle and raise awareness regarding race issues.