Location: Jimmy's Italian Kitchen, McLeodganj
Date: 31st March 2017
Time: 4.00pm – 6.00pm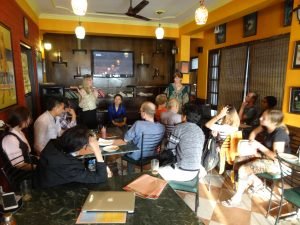 We were handed the task of hosting a film screening in McLeod Ganj on behalf of ANEC. We decided on the film 'Pray the devil back to hell' which follows the grassroots peace movement that brought together women from all over Liberia to end the civil war. We felt this film would both educate and inspire the audience on the use of active non-violence, which is at the core of ANEC'S philosophy. Rather than screening a film which documents the Tibetan Struggle (which has a lot of great exposure already in McLeod Ganj) we thought we would focus on a movement that people may not be aware of. We feel it is important to show active non-violent movements that have taken place in different parts of the world, to encourage people to engage in active non-violence movements in their own communities to fight oppression. We also liked how this film used both well-known and innovative strategies to bring about peace.
We were due to start the film screening at 4pm but had a few technical difficulties and then a power cut in the venue just before. We tried to think on our feet, keeping the audience entertained whilst waiting for the power to return. After some time without power, we decided to split the audience up into two groups, screening the film on a number of laptops with portable speakers. This was not ideal but we are proud that we managed to make it work so that the film screening was able to go ahead.
Jessie opened up with an introduction of what ANEC is, documenting its history and recent achievements. Emma then introduced the film, highlighted the messages within the move and then related them back to ANECS philosophy.
In total, we had an audience of around 11 which was made up of people from all over the world (Australia, Tibet, Venuswala, Netherlands, Turkey, Colombia and the UK). This is what we wanted to accomplish so that people could share and discuss their own experiences within their communities and hopefully learn from each other. Each member of the audience seemed to be captured by the rawness of the film with every single person staying right until the end.
The film ran for 1 hour 12 minutes, so due to this and the other factors out of our control, we did not have a long time for a discussion. We did still manage for a good 10/15 minutes discussion after, in which each audience member participated. Everybody said that they felt inspired and moved by the story documented with certain people expressing how it had changed their mindsets in relation to getting involved. (When in the film they say how if you don't have peace you don't have anything). At first people could not identify the different active tactics the women used, but after some prompts and more teachings as to what active non-violence is, they started recognize and understand them. A lot of people were really impressed with how the women used innovative strategies, which I think will inspire them to have faith in their original ideas.
We feel that the discussion was very beneficial as it allowed people recongise active non-violent strategies and to reflect on how they can contribute when they return home.
As we had run out of time, we engaged in informal chats with the audience afterwards. One women told us how it has inspired her and made her reflect on the current political situation she is faced with in her own country of Turkey, which is exactly what we wanted to achieve from the screening.